Medication Therapy Management
Discover more about a patient's health conditions and the impact of medications with inclusive medication therapy management solutions.
Compliant MTM Encounters
Running a successful Medication Therapy Management (MTM) program for patients with multiple chronic conditions can be challenging considering the documentation requirements. Our MTM software automates a lot of the essential tasks to improve the efficiency of your program.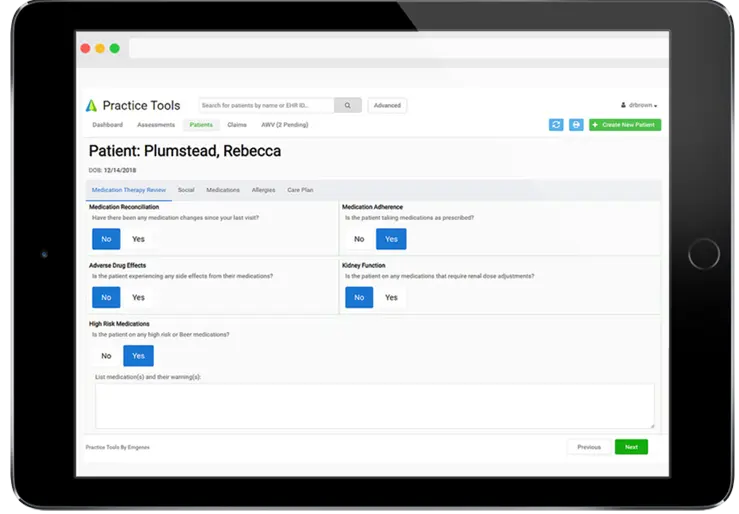 Medication therapy review
Personal medication record
Medication-related action plan
Intervention and/or referral
Documentation and follow-up
Core Elements of a MTM Service
Medication Therapy Review
The medication therapy review (MTR) is a systematic process of collecting patient-specific information, assessing medication therapies to identify medication-related problems, developing a prioritized list of medication-related problems, and creating a plan to resolve them.
Personal Medication Record
The personal medication record (PMR) is a comprehensive record of the patient's medications (prescription and nonprescription medications, herbal products, and other dietary supplements).
Medication-Related Action Plan
The medication-related action plan (MAP) is a patient-centric document containing a list of actions for the patient to use in tracking progress for self-management
Intervention and/or Referral
The pharmacist provides consultative services and intervenes to address medication-related problems; when necessary, the pharmacist refers the patient to a physician or other healthcare professional.
Documentation and
Follow-up
MTM services are documented in a consistent manner, and a follow-up MTM visit is scheduled based on the patient's medication-related needs, or the patient is transitioned from one care setting to another